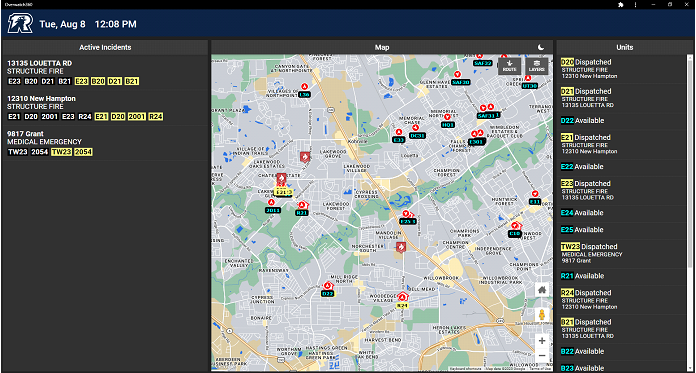 First In Software has released a new product to complement the Responder360 Incident Response Software Suite – the Overwatch360 Station Board is now available to new and existing customers.
The Overwatch360 Board enhances your overall operational experience by bringing you a customizable mechanism for staff, officers, and crews to visualize the overall status of their individual station, station group or entire jurisdiction at a glance.
Alert tones will sound for newly dispatched incidents, which will be displayed on the Station Board with critical dispatch information along with a routing preview from your station location to the incident scene.
All active incidents within the jurisdiction are shown on a continuously updated incident list and the jurisdictional map will pinpoint the location of those incidents, your stations, and real-time locations of all units. Color code and text-based unit status updates let you keep track of unit statuses in real-time.
The Responder360 Station Board is licensable per address, station, or location and up to three boards can be displayed at any licensed location. Contact us today to learn how to expand your operational functionality with this exciting new tool.